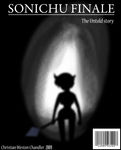 Yes. Welcome to the TRUE AND OFFICIAL "Sonichu Finale" Site.
"Sonichu Finale" is the last installement of the Sonichu series.
The original creator of "Sonichu", Christian Weston Chandler is not working anymore on the main series, so, I, Mr.BigG alias "Harry D." alias "Plombard" alias "Dadatsointsoin" the owner of this spin-off, will proudly present you an original view of CWCville, and it's mayor. if you want to see the first pages, go on the part called "The Comic"
Peace.
~Harry D.